A joint milestone set by dairies and marketers.
Shareholders of the 2002 founded KäseKeller foundation decided to rise a storage and maturing center for alpine and mountain cheese with a capacity of up to 32.700 loafs of cheese. The building was risen at the entrance point of the village Lingenau in central Bregenzerwald.
This project successfully connected all the interests of producers, marketers and regional
institutions as well as the interests of the KäseStrasse Bregenzerwald and thus new market opportunities and a quality standarts for silage-free milk products were created.
With a total investment of over € 6.5 million, the Bregenzerwald Cheese Cellar is the largest
joint milestone in the history of the Bregenzerwald dairy industry.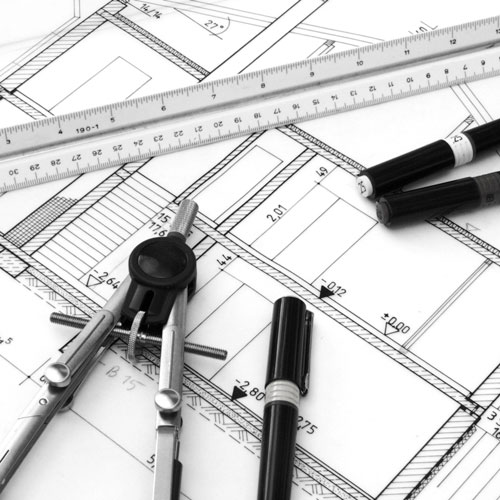 Architecture
With architect DI Oskar Leo Kaufmann we choose one of the most prominent representatives of the recent generation of the Europe-wide recognized Vorarlberg architectural scene for the new building.
Its monolithic structure of exposed concrete blends into the landscape in a self-assured manner. Particular attention was paid to the presentation and visitors' room in the ground floor foyer with a view into one of the three maturing cellars.
Here the fully automated care of the cheeses can be observed: a robot drives along the 55-meter-long cheese racks, lifts each cheese loaf one at a time from the spruce boards, brushes it with saltwater and places it back in its original place.
The Vorarlberg artist Edgar Leissing created a series of large format color photographs for the foyer, which shows the cultural and social environment of cheese and milk production in the Bregenzerwald in a poetic way.
Tradition and future, craftsmanship and technology, art and nature, landscape and culinary delights are combined in the cheese cellar to create an unique experience for all visitors.
Shopping at the Cheese Cellar

At the foyer of the Käsekeller you will find a shop with regional delicacies – with an impressive view into the cellar.
From our choice:
Mountain cheese with different degrees of ripeness from different dairies
Sliced cheese assortment of the KäseStrasse Bregenzerwald
Sausages from the region
Whey care products from Ingo Metzler
Gift articles and much more.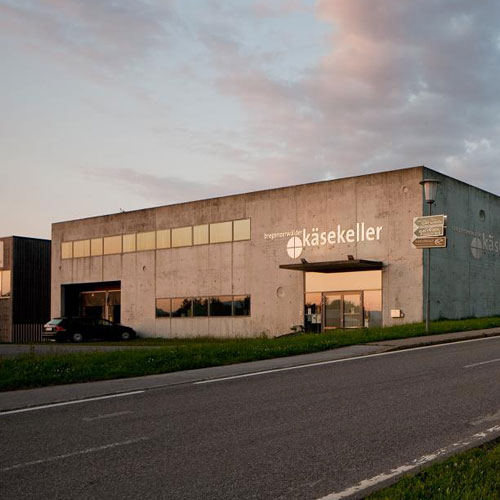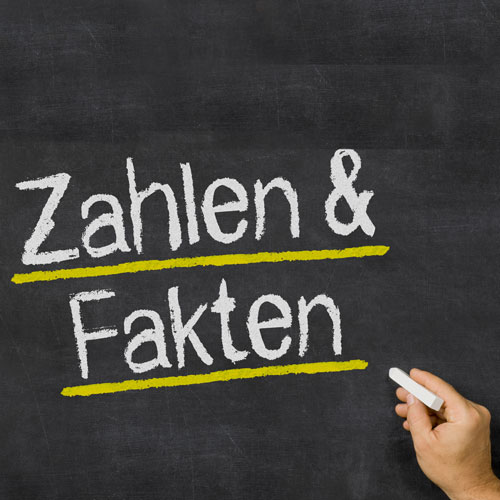 Facts
Completition:
July 2003
Cellar height:
7 meters
Cellar length:
70 meters
Storage capacity:
32.600 Loaves
100% occupancy:
1.200 tons of cheese
Spruce bearing boards:
500 m³
Chrome steel frames:
80 tons
Cellar temperature:
10-14° Celsius
Humidity:
91-94%
Robot power:
120 loaves/h/robot, 22h/day x 4 robots
(Sausi, Erich, Ecke and Oki)
Air Conditioning:
27.000 m³/h outside air intake
Biomass heating:
With wood chips from the region
Take a Look Inside the Cheese Cellar

Learn more about the history and origin of the Bregenzerwälder KäseStrasse.
In a film and an expert presentation, we will explain how everything started and what makes it so special.
Take a look through the glass wall of the Cheese Cellar – the largest storage and maturing center for mountain and alpine cheese in Europe.
Then taste our cheese specialties and let the visit end comfortably. It is possible to buy cheeses and regional products of our members in the shop.
We are happy to inform you about other excursion and sightseeing opportunities along the Bregenzerwälder KäseStrasse.
Offer A
Cheese plate with five sorts of cheese, a slice of bread and a glass of Wäldar Win or juice
€ 6,80 / Person
Offer B
Gourmet selection with six types of cheese, a slice of bread and a glass of Wäldar Win or juice
€ 7,80 / Person
Offer C
Farm plate with four sorts of cheese, two kinds of ham, two slices of bread, butter and a glass of Wäldar Win (Wine) or juice
€ 10,90 / Person
Prices for the presentation for the offers A, B and C
Groups of 2-10 people on request
Groups of 11-20 persons: € 3,00 / person
Groups from 21 persons: € 2,50 / person
Tasting with a cheese sommelier
Offers A and B can also be booked with a cheese sommelier on request.
Immerse yourself in the world of cheese history with our expert and enjoy the "white gold" with the appropriate Wäldar Win.
Price on request!
Price on request!
Tour guide and bus driver for groups of 15 people or more free of charge.
Bus parking available!
Duration:
About 1 ½ hours
Events:
Please make an appointment at the office of the KäseStrasse Bregenzerwald
Opening Hours and Contact

Requests for visits:
KäseStrasse Bregenzerwald GmbH
Zeihenbühl 423 | 6951 Lingenau
Tel. Büro: +43 (0)5513 42870-41
Tel. Foyer/Geschäft: +43 (0)5513 42870-43
Fax: +43 (0)5513 42870-40
E-Mail: info@kaesestrasse.at
Homepage: www.kaesestrasse.at
Opening hours of the office:
Monday – Thursday from 8:00 am to 12:00 am
and 13:00 to 17:00
Friday from 8:00 am to 12:00 am
Summer opening hours (1.4.- 31.10.)
Monday – Friday 10.00-18:00
Saturday 9:00 – 17:00
Winter opening hours (1.11.-31.3.)
Tuesday – Friday 10:00-17:00
Saturday 10:00-16:00
Company holiday:
12.-25.11.2018
14.-20.01.2019


Bregenzerwälder Käsekeller GmbH
Zeihenbühl 423 | 6951 Lingenau
Tel.: +43 (0)5513 42870
Fax: +43 (0)5513 42870-13
E-Mail: gf@kaesekeller.at